The Mediterranean youth integration: a priority, an emergency, an opportunity
The MedNC network literature review
le 24 May 2019
To better understand the issues related to the youth socio-professional integration in Mediterranean countries, read the specific and quantitative contextual components of the MedNC network literature review.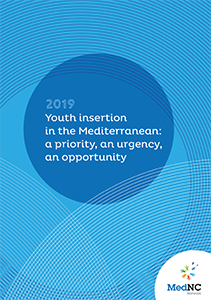 The socio-professional integration of young people is a priority for the Mediterranean countries, all the more so in view of the proportion that this age group represents in the total population. This is particularly the case for the South Shore countries, which are experiencing strong demographic pressure with the expected arrival of 300 million young people on the labour market in the MENA region by 2050 (World Bank forecast) and one of the highest unemployment rates in the world (ILO data). The situation is also alarming on the north shore of the Mediterranean, with youth unemployment rates often close to 30%.
These and many other data are to be found in "Youth Insertion in the Mediterranean: a priority, an urgency, an opportunity": first literature review of the MedNC network, carried out with the support of AFD and the expert economist statistician Michèle Mansuy.