13th Steering Committee of the MedNC network in Rome
le 24 February 2020
The 20th and the 21st of February 2020 took place in Rome the 13th Steering Committee of the MedNC network. An event in which have been defined the several orientations for the next years, by targeting key thematic areas: such as women integration or the commitment of companies; with the ones desiring to be a leader and a source of proposals. This event has been an opportunity to welcome a new member: the Tunisian association TAMSS.
The 13th Steering Committee of the MedNC network went on the 20th and the 21st 2020 in Rome, Italia. With 31 attendees, every members of the MedNC network, as well as the North shore and the South shore, were represented, and also several institutional and strategic partners : UNICEF Morocco and Tunisia, Union for the Mediterranean, Drosos Foundation, and also the Direction de l'éducation non-formelle.
With an affluence way higher than the 2019 event edition, that highlights a growing concern for this Mediterranean dynamic in which the network is included but also a specific need for most of the members to have access to the feedback from their peers, to seek inspiration from it, and to get more recognition and support from the public authorities.
---
New orientations and new projects
This Steering Committee was also the opportunity to recall several great achievements of 2019, in particular the success of the annual MedNC conference in Barcelona, the launch podcasts platform and for sure the award received by the network for the first edition of the Two Shores Summit in Marseille.
According to proposals from the network members, many key-thematic were also discussed: women integration, companies' commitment, measuring impact of the action conducted by the network and also the promotion of various specific members expertise. In a near future, MedNC is expecting to be proactive on these subjects, by suggesting effective actions and by establishing new partnerships.
These discussions have been followed-up by the visit of two structures: the community center of Matemù, and the professional training center Borgo Ragazzi Don Bosco, managed by CNOS-FAP.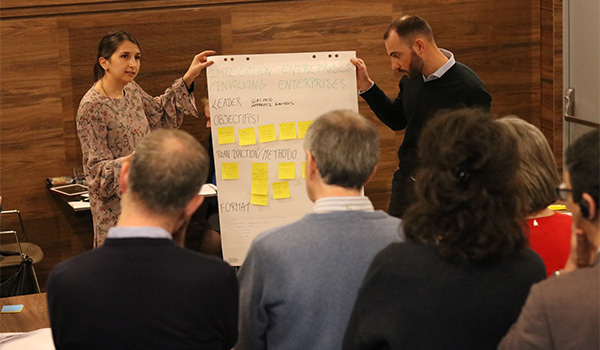 ---
A new Tunisian member
This 13th Steering Committee welcomed among its members the Tunisian Association for Management & Social Stability (TAMSS), for which the membership has been voted unanimously. Created in 1995 and based in Tunis, TAMSS is particularly involved in women support actions towards entrepreneurship and the refugee professional integration: for which there is a collaboration with the United Nations Refugee Agence (UNHCR).